O2 West Personal Training Monthly Schedule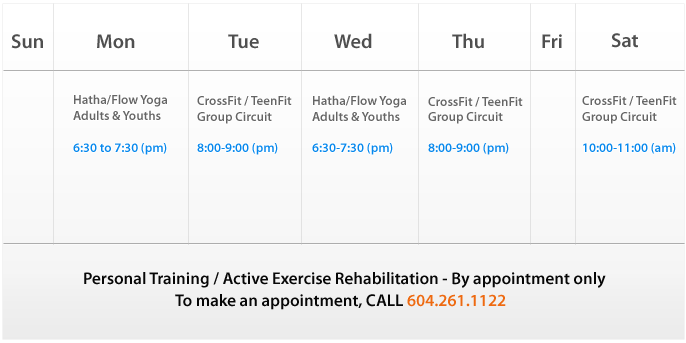 Personal Training – includes total body conditioning challenging all muscles and improving technique, body sculpting specialist for ladies to slim, tone and curve in the right places or for men to muscle up for a V-shape look, corporate fitness, sport-specific training, elite athlete conditioning, senior conditioning, Youth Fitness, pre-wedding transformation for couples and families for extreme before and after results, special event transformation for movie premieres, concerts, auditions, photo shoots, marathons and more. More info on our Services page.
Active Exercise Rehabilitation - ICBC motor vehicle accidents, sports related injuries, body and posture alignment, range of motion, stretch and strengthen. Tightness in the body? Medication may help but avoiding the real solution doesn't. Give your body the active exercise it needs to recover. Our active rehab programs are popular because they are unique. Customized and different rehab programs designed especially for you at each visit. No more same old boring exercises everyday.
CrossFit / TeenFit Group Circuit (all levels) – CrossFit is the chosen strength & conditioning program for many including police, fire, and military special operations With the phenomenal results achieved from CrossFit programs, top elite athletes are bringing their sport to an unprecedented performance levels we see today.

Our group circuit is designed for any individual regardless of age, experience and fitness level from beginners to Olympic-level athletes. This is not 'boot camp' and non-intimidating. It is safe and effective exercise training through task completion at its best - No. 1 Proven Most Effective Method, Quickest Results in Shortest Time. Total body conditioning including weight loss, strength, speed and endurance. It's time to up your game. One try and you will experience an amazing fitness energy at a new different level. It is that good!
TeenFit / YouthFit - for teens and kids. Developed from CrossFit. Please call for class schedule or private sessions.
Hatha Yoga (all levels) - build balance, strength and poise to improve your physical health through practice of poses, physical postures and breathing to calm the mind through relaxation. New and interesting poses every week. All yoga classes are only taught by passionate, knowledgeable certified instructors who are sensitive to your wellness.
Power Flow Yoga (all levels) - dynamic yoga practice integrating interesting poses to help enhance your strength, balance, flexibility, & core stability. Energetic yet challenging at times, it cultivates breath work, movements and more. All yoga classes are only taught by passionate, knowledgeable certified instructors who are sensitive to your wellness.
More info on our Services page.