Andy Shiu - Master Trainer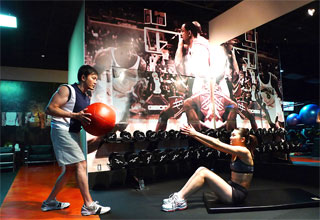 With more than 25 years of experience as an athlete, coach, and personal trainer, Andy Shiu is one of Vancouver and Hong Kong's most preeminent professionals. As a fitness expert, Andy specializes in a wide variety of subjects in personal training including specific body conditioning, active rehabilitation, athletic performance training, CrossFit elite conditioning and body sculpting. He has an impressive list of clients, and has worked with individuals – from novice to national-level athletes – aged 8 to 80. A perfectionist at heart, Andy is constantly setting new standards for the personal fitness industry. His list of clients includes celebrities and athletes in both Vancouver and Hong Kong.
Prior to starting O2 West, Andy was owner and active rehab specialist of Hong Kong's prominent sports injury clinic Doris Physio Care. He was also the principal of Perfect Fitness Personal Training.
Andy has a great passion for competitive sports, and previously participated in motocross, triathlons, tennis, and running competitions. His many accolades include the 1998 Hong Kong Champion in motocross and competed nationally in the 2000 UCI World Masters Championship in downhill mountain-bike racing (being 1999 Hong Kong Master Champion).
Andy's fitness philosophies
Respect your body and train with progression, intensity and encouragement. This is how I achieved optimum success as a national-level athlete.
You can definitely defy age and genetics – you just need to train and think smart.

"Train smart, play hard." – Andy Shiu
Andy's credentials include:
CSCS Certified Strength & Conditioning Specialist, U.S. National Strength & Conditioning Association
Level 1 Certified Instructor, CrossFit elite performance training
Level 1 Certified Cycling Coach, NCCP, Coaching Association Of Canada
Bachelor of Business Administration (Accounting), Simon Fraser University
Teaching Instructor, for personal trainer certification, injury prevention, muscle relaxation techniques and pre-natal exercises
2000 UCI World Masters Championship Downhill Mountain-Bike (placed 5th, Category 35-39)
1999 Downhill Mountain-Bike Master Champion (Hong Kong, won every race)
1998 Motocross Champion (Class B 250cc, Hong Kong)
Executive Committee Member, Bodybuilding Judge, Coach & Course Lecturer, Hong Kong China Bodybuilding Association 1998-2003
Hong Kong Team Delegate, IFBB Mr. Universe 2001 (Myanmar)
Fitness & Body-sculpting Consultant, Crystal Cover Girl & Sunshine Nation Talent Contests
Guest Speaker and Appearances, Fairchild Radio AM1470
Fitness Consultant and Personal Trainer for contestants, Fairchild Sunshine Nation Talent Show 2007-2009
Fairchild Radio Guest Speaker and Appearances
Ming Pao Newspaper columnist